Entrepreneurs and innovators can rest easy when looking for the right IP services in Sydney. The team at Alder IP has been leading the way in service and satisfaction – from Australian patent registration to copyright law, and all areas in between.
That work isn't happening under the radar; Alder IP has recently been recognised by some of the most prestigious authorities worldwide for excellence in matters of intellectual property law.
IAM Patent 1000 2016
When people need to know the top names in patent law around the world, they turn to Intellectual Asset Management's (IAM) Patent 1000.
This is the fourth year in a row that Mr. Alder has been recognised in Patent 1000.
The selection process for this list is quite extensive – over the course of five months, IAM researchers conduct thousands of interviews with industry professionals and clients. For a recipient to be considered, researchers needed to receive a number of endorsements from multiple parties.
In Patent 1000 2016, Alder IP's own Anthony Alder was recognised as one of Australia's top-recommended individuals for patent transactions and prosecution. IAM had specific praise for his ability to consistently keep an eye toward how those transactions will affect businesses in the long run.
This year marks the fifth edition of the list, as well as Mr. Alder's fourth appearance in Patent 1000; he was recognised by IAM in 2013, 2014 and 2015.
ACQ Global Awards 2016
Something to be both proud of and humbled by is recognition and acclaim from peers, which is what the ACQ Global Awards represent. With nominations provided from within the industry, these awards go to those individuals and organisations that really stand out worldwide.
This year, Alder IP has received both the Client Care Law Firm of the Year and Patent Law Firm of the Year from ACQ.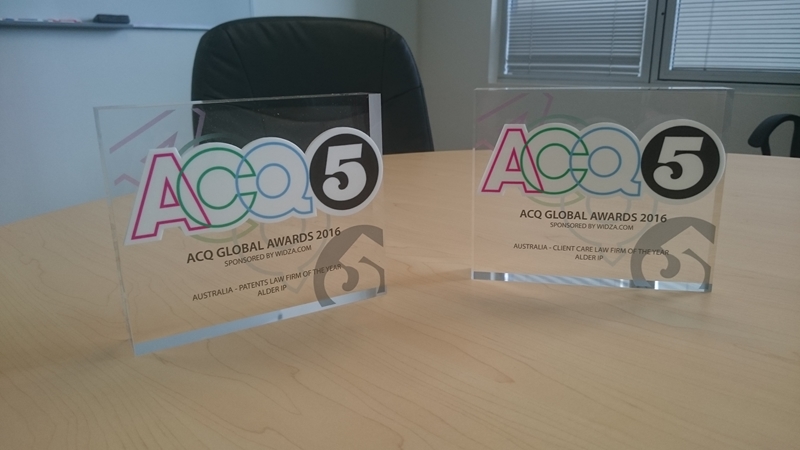 For over a decade, the awards – sponsored by ACQ Magazine – have sought to shed light on the accomplishments of professionals and businesses that are flourishing in the world of modern business after the global financial crisis. This year, ACQ requested nominations from more than 160,000 sources – all in the attempt to find individuals and organisations that serve as an example in their respective fields.
Awards such as the Patent 1000 and ACQ are the result of the work of a cohesive and effective team, so a hearty congratulations is in order to everyone who contributed to these noteworthy recommendations.
To get a firsthand look at what makes Alder IP such a renowned organisation when it comes to Australian patent and copyright services, contact us today.