Alder IP are proud to have been named 2019's Full Service IP Law Firm of the Year in Australia, in the Corporate INTL Magazine Global Awards.
Now in its 12th year running, the Corporate INTL awards have seen their greatest number of entrants yet. Against this level of competition, the team here at Alder IP are extremely pleased to learn we have been selected as the leading full service intellectual property law firm for 2019. This comes after three consecutive years of recognition in the Corporate INTL awards as Best Australian Patent Law Firm, from 2016 to 2018.
The team at Alder IP would especially like to give thanks to our clients for choosing us as their IP law advisers and partners, and for recognising the hard work we put in to every job.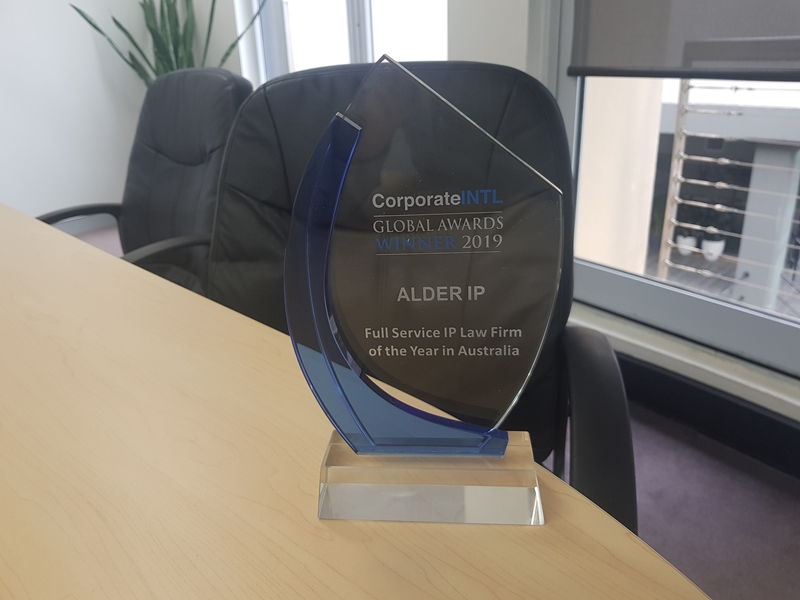 About the Corporate INTL Awards
The Corporate INTL Awards acknowledge excellence throughout the past 12 months, not only in delivery of technical knowledge and expertise but a high standard of customer care and service.
Running since 2008, Corporate INTL are dedicated to awarding the most active and experienced advisers around the world. With particular attention to every facet of the global law sectors, the Awards recognise leading law firms on the global and domestic scale, including both boutique and large firms. To this end, nominees are thoroughly researched through interviews and insights from global business leaders in order to create a shortlist. Nominees are independently judged, ensuring the best practitioners in each field and locale are chosen every year.
About Alder IP
Alder IP boasts a team of specialist intellectual property lawyers, including qualified and registered patent attorneys, trademark attorneys and solicitors. Our broad but thorough knowledge of IP law enables us to deliver comprehensive legal services to our clients in a fresh new way. With an extensive background advising clients in the engineering, medical, science and information technology sectors, we're well-equipped to help you with end-to-end innovation patenting and IP protection.
In addition to our 2019 award, Alder IP have been recognised as Recommended Experts in the IAM Top 1000 in 2016, 2017 and 2018. We are also proud to have won the 2015 Client Choice Award for best patent firm in Australia, as voted by our clients and reported by Lexology.
For more information about Alder IP's service and expertise, don't hesitate to get in touch with us today.